The data show how many vaccinated people got ill or died after the second jab, and how it is linked to the various vaccines.
As in many other countries the coronavirus pandemic and the vaccination became a political issue.
The opposition parties often criticized that the government ordered (and the authorities approved) the Russian Sputnik-V and the Chinese Sinopharm vaccines, which are not used in the other EU member states, but with their help the country could accelerated the vaccination process.
That is why the Hungarian government published the data that reveal the various vaccines how effectively work.
It is unclear how the following statistic has been made, but it might be interesting not only in Hungary.
The numbers show the numbers of infections and fatalities after the second jab between December 2020 and April 2021.
Vaccine
infection cases
fatalities
total number
per 100.000
vaccinated
total number
per 100.000
vaccinated
Sputnik-5
201
95
2
1
Moderna
108
117
12
20
Sinopharm
1744
356
78
16
Pfizer
3048
555
175
32
AstraZeneca
613
700
6
7
Total
5714
408
273
20
Registered events after the second doses. (Data source: Hungarian government)
From this perspective the Russian vaccine seems to the most effective with very few infection and fatalities.
Perhaps you can get a cleaner picture if you look at the following diagram illustrated the number of people who got the second dose of different vaccines until 18 April 2021, under and over the age of 60 years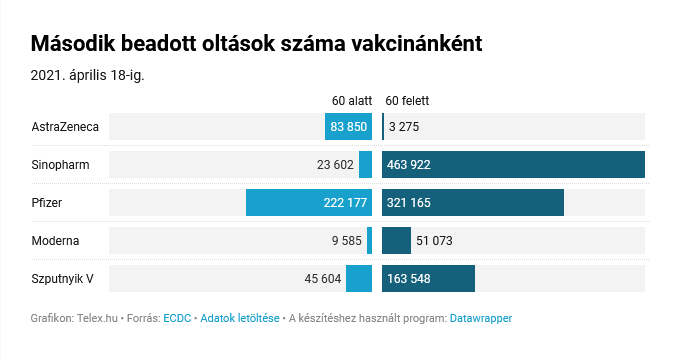 Anyway, 3,576,705 people have so far been vaccinated against COVID-19 in Hungary. 1,552,685 have already received the second dose of the vaccine.
And here is the original Facebook post by the Hungarian government.