Two young sportsmen from Nagykanizsa hit the road on a special man-powered vehicle to get to the London Olympic Games.
The way there and back is calculated to be 4500 kilometres.
The carbike (in Hungarian: bringakocsi) is a typical Hungarian D.I.Y. product. It is designed and made by Gyula Szantner, known as a builder of more custom-designed bikes.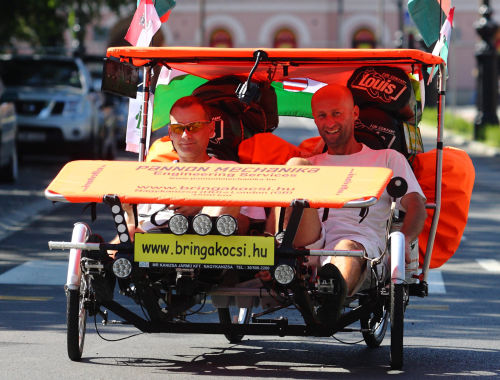 The metal framework of the bringakocsi comes from partly mountain bikes. The vehicle has a roof and a small boot for the luggage.
As far as the technical details are concerned, it has 21 gears and a rear wheel drive.
On their way Tamás Hegedüs and Sándor Hodák Sándor will cycle across Nagykanizsa's two sister towns, Gleisdorf in Ausztria and Puchheim in Germany.
After that the planned route will take them to Belgium and Calais in France, where they will take the ferry to Dover. From there they will cycle on to be in London by 9 August.
Before the start, as a warm-up, the two sportsmen have pedalled the bringakocsi more than 3000 km.