After some debate and hesitation a new park in Budapest got its name after Kemal Atatürk, the Turkish statesman of the 20th century.
The decision was not easy, the local council had changed its mind more times considering the diplomatic tense Between Hungary and Armenia.
How does Armenia come into the picture?
Well, the reason is a bit complicated.
As I wrote, at the end of August Hungary transferred the Azeri Ramil Sahib Safarov to Azerbaijan. He slaughterer his Armenian roommate with an axe in Budapest.
Having been transferred, in Azerbaijan he did not continue his life sentence, on the contrary, he got a pardon, what is more, some promotion, being an army officer.
Armenia was far from being happy about the issue.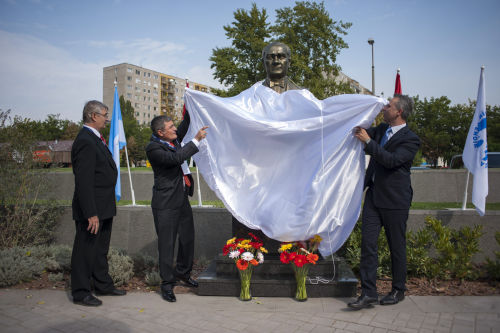 Turkish and Hungarian politicians unveiling the statue of Kemal Ataturk in Budapest
Kemal Atatürk park is not a big help to reconcile the battered Hungarian Armenian relationships.
Kemal Atatürk is the biggest national hero in Turkey, the founder of the modern state, but in Armenia he is considered to be responsible for Armenian Genocide
Anyway, Hungary and Turkey has had a long and complicated common history.
Kemal Atatürk park is somewhere here.