The German man, whose car was nearly eaten up by the swamp, was lucky all in all.
The weird accident happened in the region of Kis Balaton, a unique natural conservation area, which is famous for its wetlands and wildlife, and part of one of the Hungarian national parks.
The German man was driving along a small road between Alsópáhok és Sármellék, when he left the road for some reason and the car started to sink into a swamp.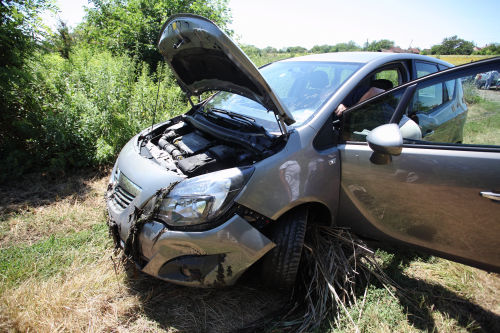 The troubled car after the rescue operation
The driver managed to get on the top of the car and called for help by mobile phone.
A large number of fire brigades, ambulances, militiamen, qauad bikers and local citizens started to find the car, but it took three hours to locate and rescue the troubled man who was lucky not to receive any injuries.
The car was pulled out of the swamp by a caterpillar vehicle arriving from a nearby peat mine.
According to the local people this accident has not been the first one in the area. A number of tractors have also sunk into the 5-6 meter deep bog, even a fatal accident occurred some decades ago.