This year Budapest Pride Film and Cultural Festival was hold from July 1 through July 8 with cultural performances, concerts, exhibitions, discussions etc.
The peak of the event, as every year, was the Saturday afternoon Budapest Pride March, which ended up a small street fight between the police forces and anti-demonstrators who mainly belonged to far-right political party Jobbik
Along the way the counter-protesters tried to disturb the march with throwing tomatoes and shouting abuses at the protesters.
This year 10 counter-protesters were arrested in connection with the march, they are accused of street violence and breaching the peace.
Since gay demos in Eastern Europe are full of hidden political messages they are quite typically end up in violence. Sometimes they are simply banned.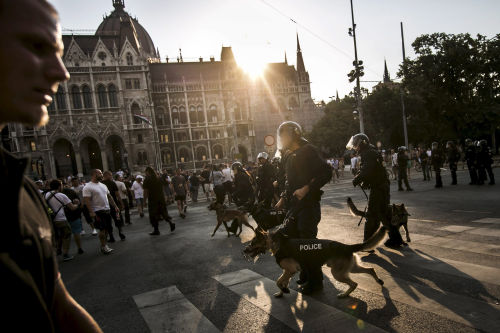 Budapest Pride 2012 – Some street fight as usual (Photo: MTI)
At the same it seems that Hungarian people are less and less are interested in that kind of events so it might be less worth for politicians intervening to collect votes from this or that side.
This year there were some left wing the green politicians among the marchers, moreover, for a short time the US ambassador Tsakopoulos Kounalakis also joined the march.