1.
BKK (Centre for Budapest Transport) company has launched a new service that is proved to be extremely popular with the tourist and the local people as well.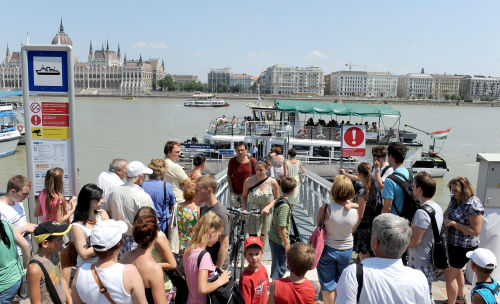 People are boarding D12 at Batthyányi square in the center of Budapest
The boats called D1 and D12 have been operating as rives buses since last week. First they commuted only at peak times but some days later BKK had to reorganize the timetable because of the great demand. Now D12 runs every 30-40 minutes but the timetable will be finalized later on. One single ticket costs only 400 HUF (1,4 euros). You can check out the actual fares, routes and timetables here.
 2.
Oops! This means of transport doesn't belong to BKK. This private car might have envied the success of D12.
Rescuing the runaway car on the river bank
It could roll into the Danube because its owner forgot the use the handbrake on the river bank. It is not totally unusual in Budapest. The photo was taken on 7 July when firemen were trying to pull the vehicle out of the water.